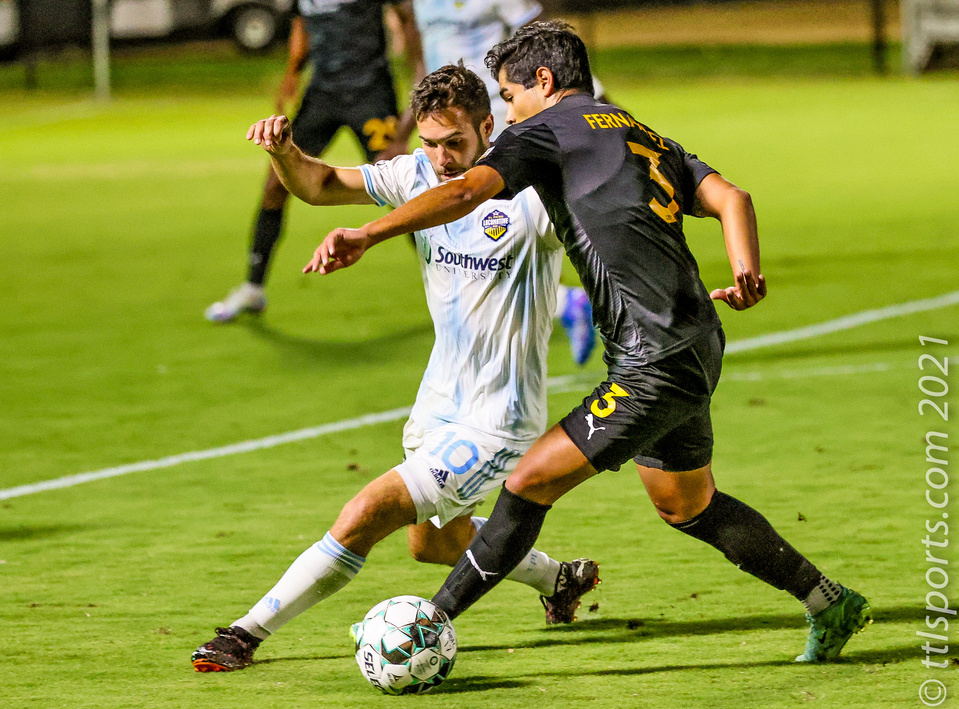 In what can only be described as a storybook ending, local favorite-son Sonny Guadarrama entered the match between the Austin Bold FC (9-6-9) and the El Paso Locomotives FC (13-2-8) in the 77th minute and scored as time expired to salvage a draw for the Bold. The appearance was Guadarrama's first in greater than a year, having played in only 7 matches in the 2020 season.
A transformed Bold took the pitch under the leadership of new head coach Ryan Thompson. The team has gone 3-0-1 since Thompson assumed the helm on September 4, 2021.
El Paso entered the match as the clear favorites, having lost only 2 matches in 35 appearances, but Austin quickly asserted itself and controlled most of the first half. The only goal came in the 31st minute by Austin's Stefano Pinho. Pinho beat goalkeeper Logan Kettereron at very close-range on a header off Ates Diouf's crossing pass.
El Paso began the second half with a renewed energy and dominated nearly every aspect of the match. Locomotive's Diego Luna evened the score with a shot-on-a-rope from outside the box, beating Austin goalkeeper Elliot Panicco.
The Locomotive seemed to have sealed the victory in the 83rd minute on Josue Gomez's goal from the center of the box. But a deftly place free kick by Guadarrama fell outside to the far corner of the goal and bounced in.
El Paso remains atop the Mountain Division of USL Championship Western Conference with 47 points. Austin is strengthening its position amid the mid-tier of the division with 36 points, and is within striking distance of the second place San Antonio FC and Colorado Spring Switchback FC with 40 points each. Austin have won three of the last four matches, with the fourth match being the draw against El Paso.