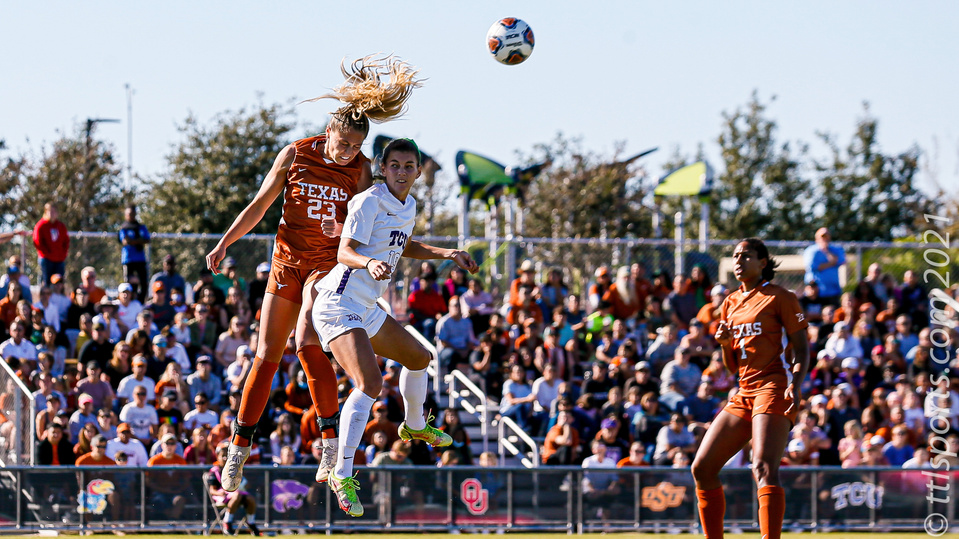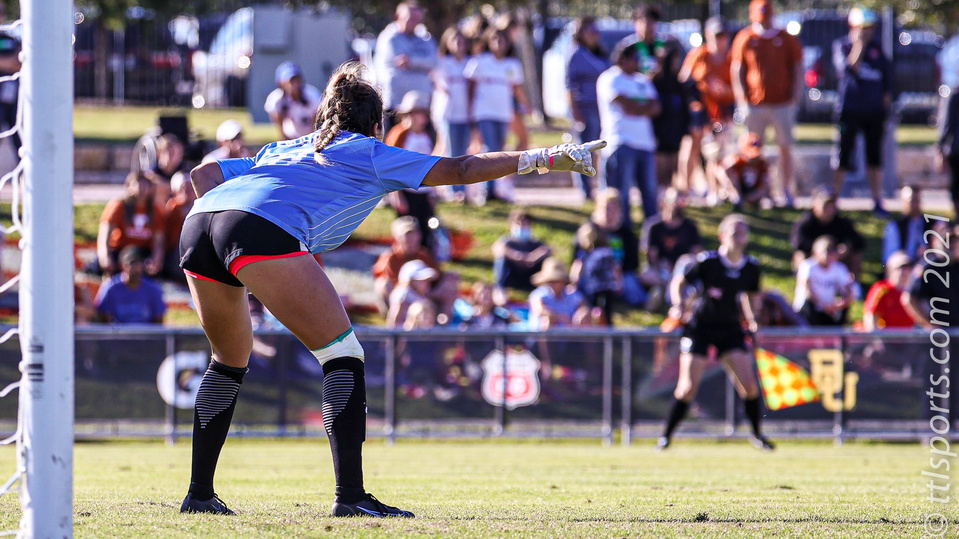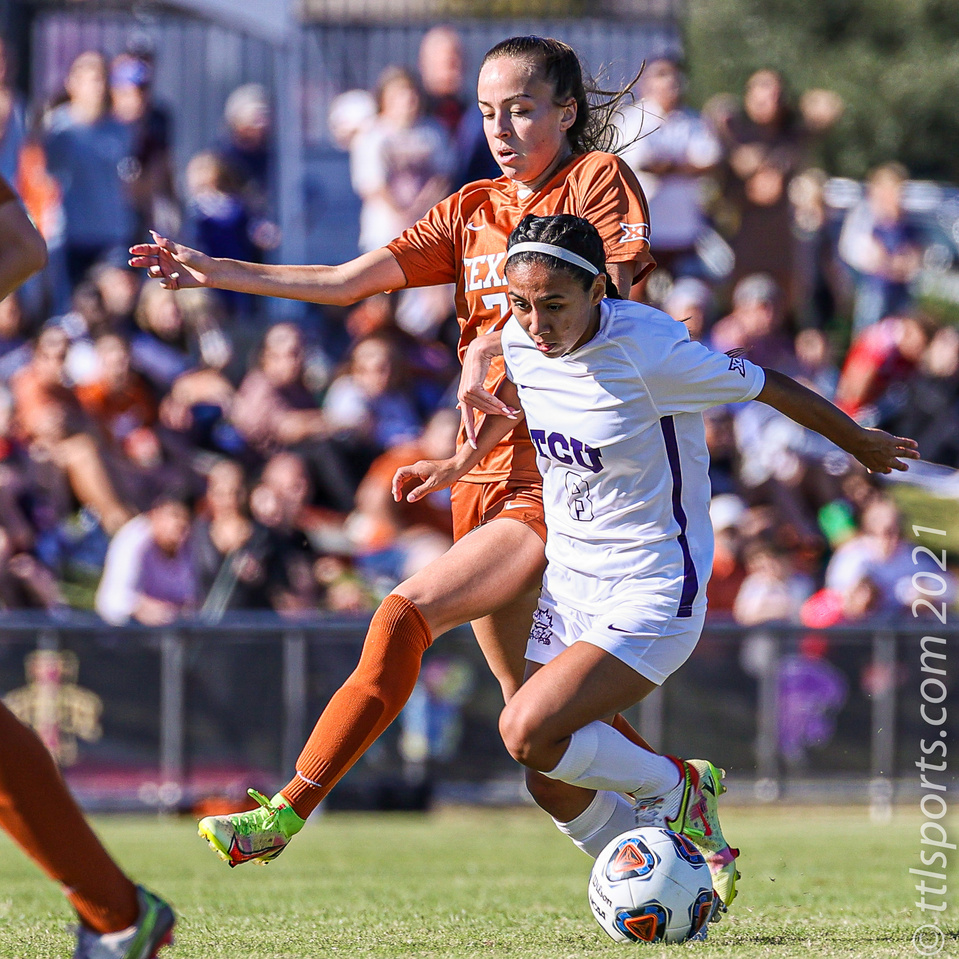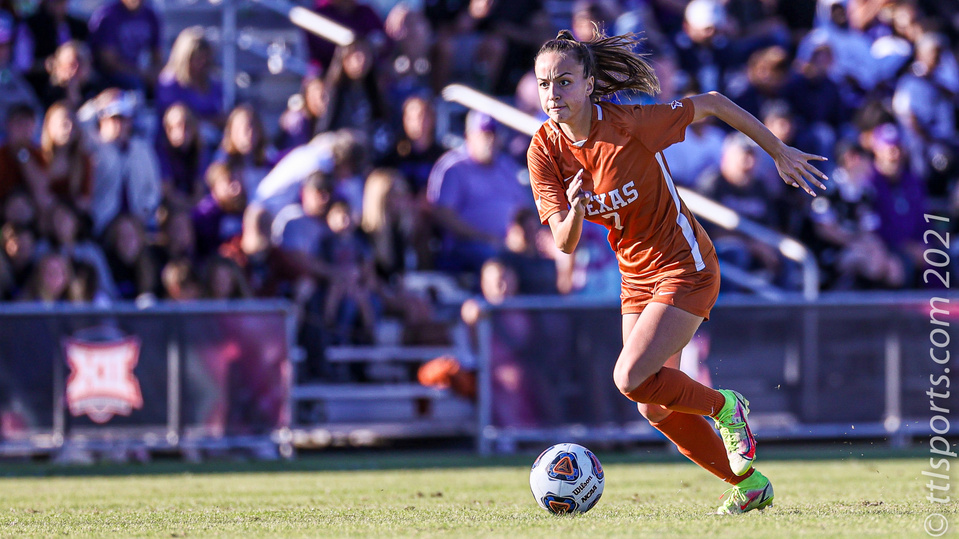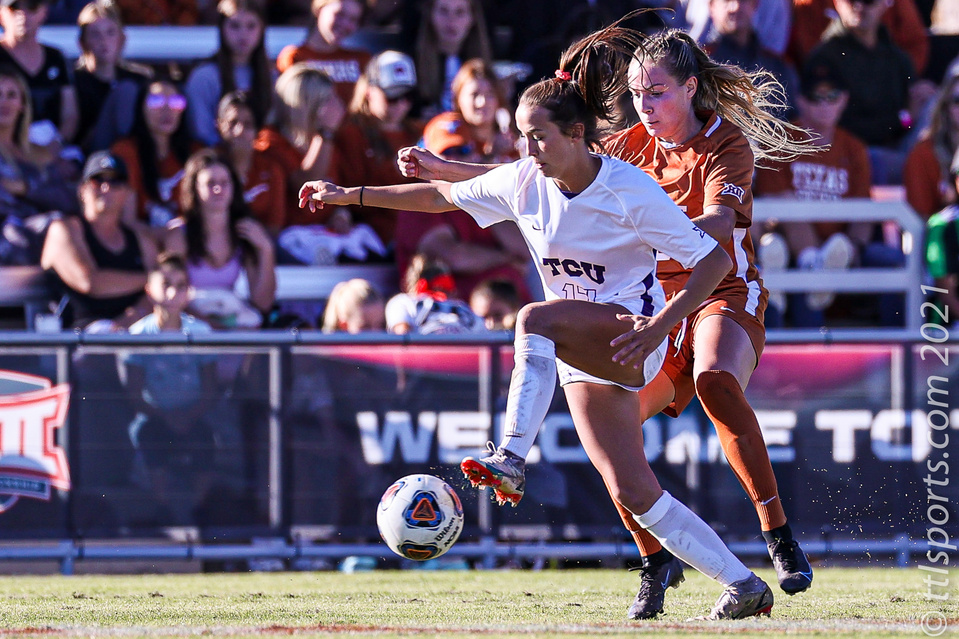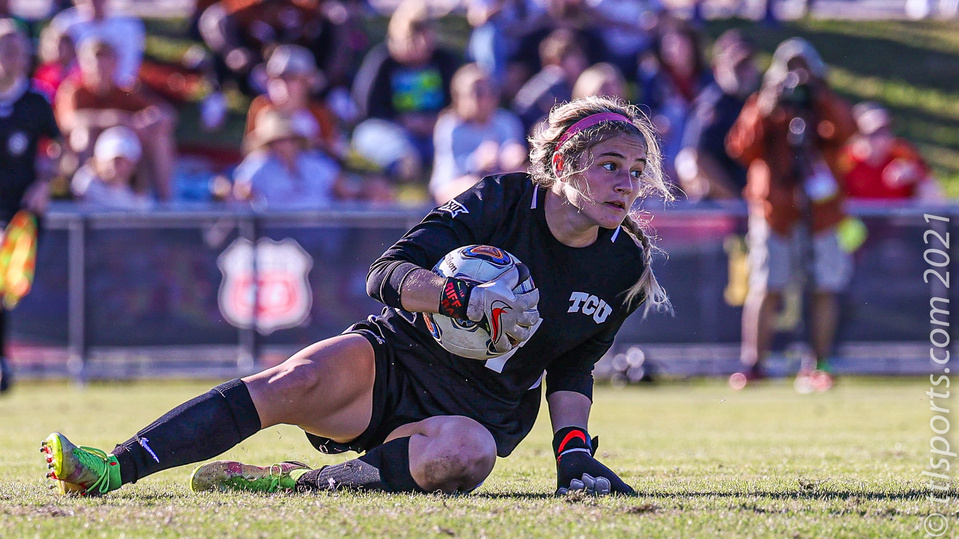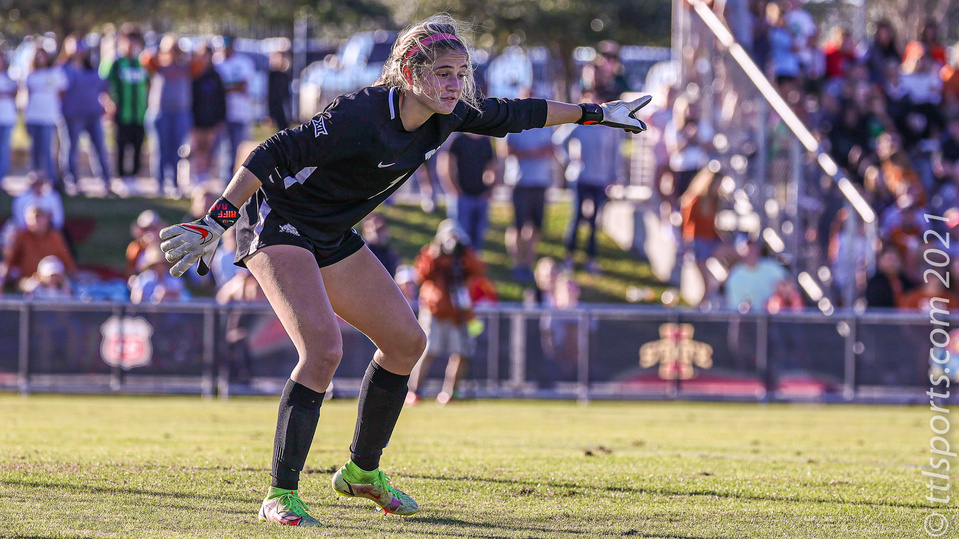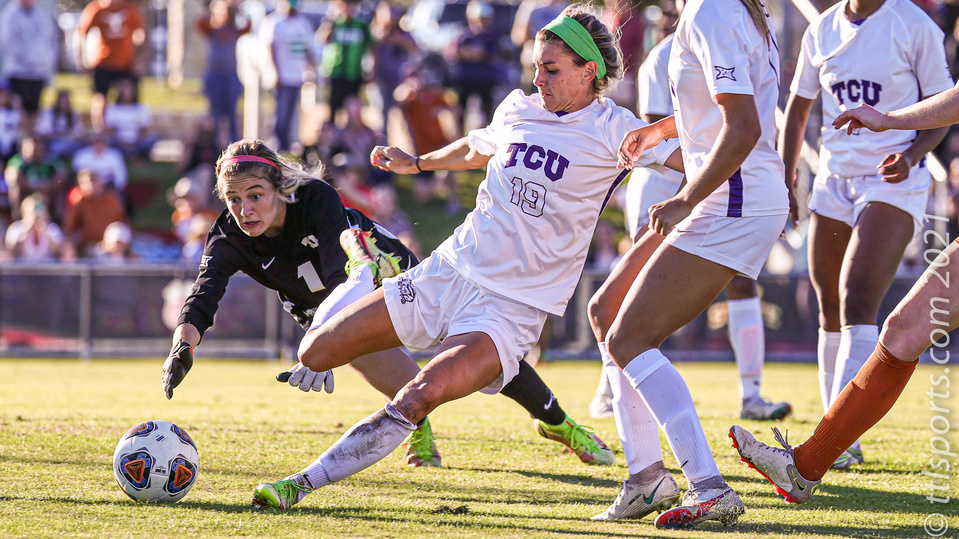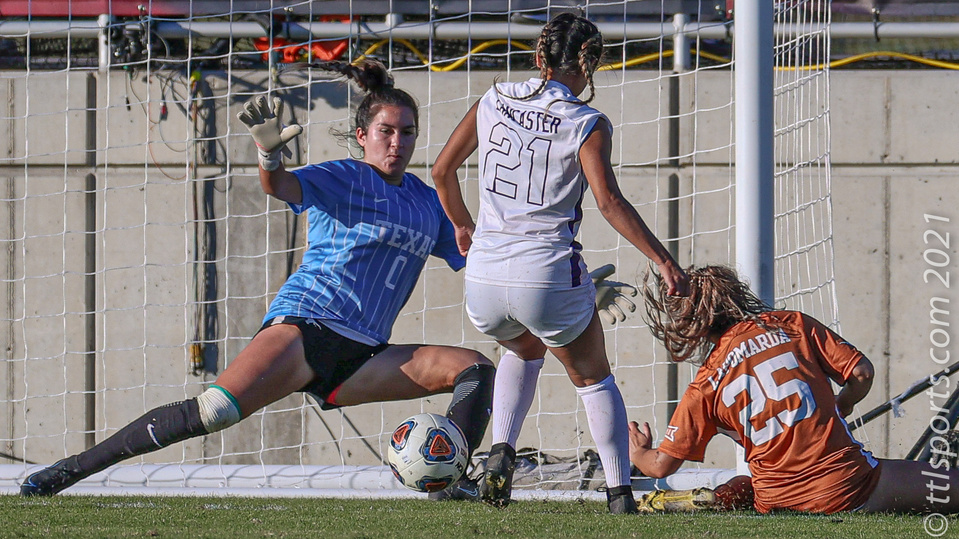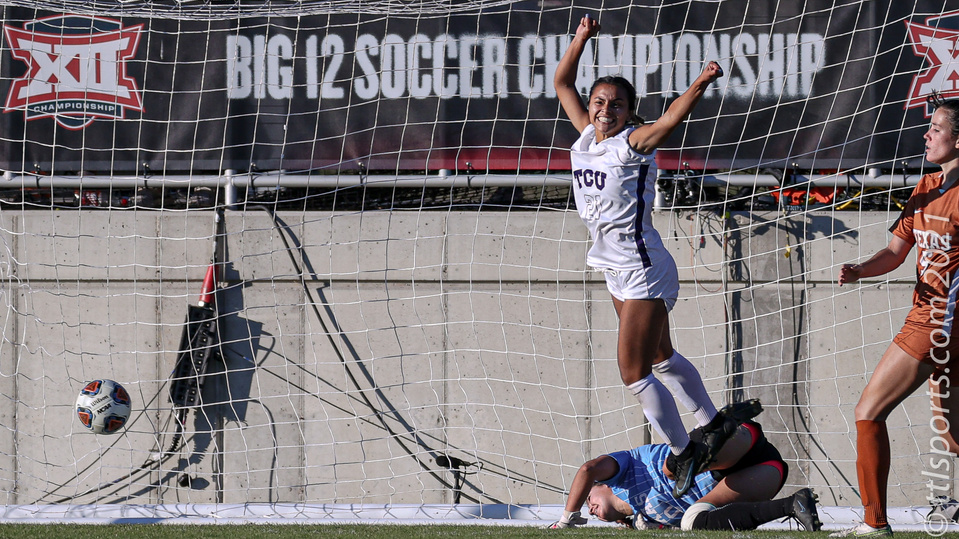 The University of Texas Longhorns (#2 seed) had everything on their side as they took on the Texas Christian University Horned Frogs (#1 seed) in the Big 12 women's soccer Championship match.
The 1850 local fans were mostly in support of Texas. The Texas bench led "Texas, Fight" chorus with the sideline rousingly responding. And heralded UT volleyball head coach Jerritt Elliott came out to support the team.
Texas almost held their poker long enough to win the Big 12 Championship, but they broke a smile, and then lost to TCU by a score of 2-to-1.
That smile cracked the moment head coach Angela Kelly ran out on to the pitch to congratulate her team on a good first half of soccer. Unfortunately, there was a second half to play and their mental state was broken.
Texas deftly controlled TCU for the first 45 minutes of play. While time of possession was evenly split, Texas controlled the match by forcing corner kicks (8-to-1), besting TCU 4-to-2 with shots-on-target, and leading 1-0 in goals. Texas's goal came off the foot of Ashlyn Miller, her career first, from 20 yards out.
But for as every bit as human that Texas coach Kelly was, TCU head coach Eric Bell was composed and analytical.
TCU cautiously picked their battle, holding their shots until they got under the Texas defense. TCU scored two, second half goals, coming from Messiah Bright and Camryn Lancaster. Both scores came as TCU got under the Texas defense and into the goal area, about 5 yards out.
Texas appeared less mature in the second half, forcing the play as opposed to waiting for the opportunity to open. Unable to get under the TCU defense, Texas took most of their shots from outside the penalty box and was unable to find the opening.
With the loss, Texas says good bye to seniors Savannah Madden (goalkeeper), Cameron Brooks (forward), Carlee Allen (midfielder), Julia Grosso (midfielder), Mackenzie McFarland (forward) and Emma Regan (outside back).
The Longhorns will see a broad host of return starting players, including freshmen Lexi Missimo (midfielder), Holly Ward (forward), Tatiana Fung (midfielder), Trinity Byars (forward), and EmJ Cox (corner back), along with returning sophomore Laure Lapomarda (defense).