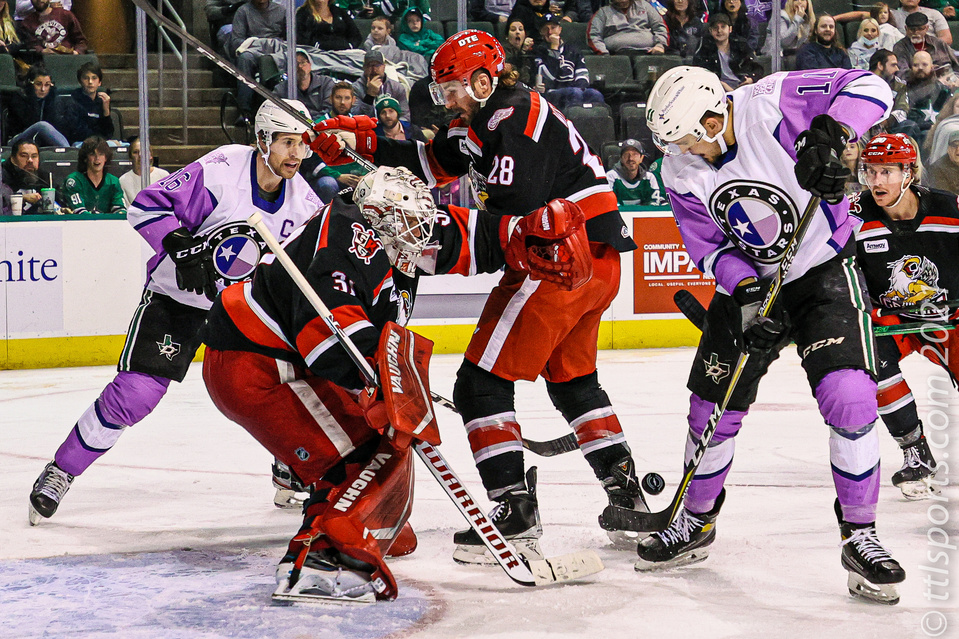 The Texas Stars (5-6-1-1) lost a see-saw battle against the Grand Rapids Griffins (6-5-1-1), falling 5-4 in overtime. The Griffins put-up three goals, and gave up one, in the first period. The Stars did the same in the second. Neither team score again until overtime when Grand Rapid netted the game-winner.
Grand Rapids had Texas skating backwards on offense, scoring three goals in an eight-minute window. Dominik Shine first found the back of the net for the Griffins, followed shortly by Taro Hirose. The Stars Joel L'Esperance temporarily broke the Griffin's momentum with a goal, only to be out done with a score by Brian Lashoff.
Over stating the obvious, Texas Stars head coach Neil Graham said, "I didn't like our start. I didn't think we were ready in the way we needed to be."
Texas' poor start prompted Graham to pull starting goalkeeper Colton Point for Adam Scheel. Point yielded 3 goals on 10 shots in 20 minutes. Scheel was recently pulled up from the ECHL and was seeing his first AHL ice time of the season.
Early saves by Scheel allowed Texas to regroup, pulling momentum from Grand Rapids. The Stars quickly tallied goals by Ty Dellandrea, Joel L'Esperance and Jeremy Gregoire to grab the lead. A late second period goal by the Griffin's Tyler Spezia tied the game.
"He played well. It's tough coming in mid-game like that," said Graham on Scheel's performance. "He did a nice job settling in."
Neither team scored in the third period, forcing overtime. Turner Elson won the game for Grand Rapids a minute and one-half into overtime.
Texas' power play and penalty kill units were especially effective. The Stars went 2-for-5 on the man-advantage opportunities, with both of L'Esperance's goals coming on power plays. Texas blanked Grand Rapids on penalty kills.
"I like the way we came out for the final forty (minutes). We play a different game. Managed the puck better, made plays. Our intensity was much better," said Graham.
Grand Rapid's Calvin Pickard (6-2-1) earned the win, making 23 saves on 27 shots. Texas' Scheel (0-0-1)suffered the loss, allowing 2 goals on 13 shots in 41:30 minutes.
Looking forward to tomorrow night's rematch, Graham said. "We have to make sure we're ready for puck drop tomorrow or else it too hard of a league to come back every night."