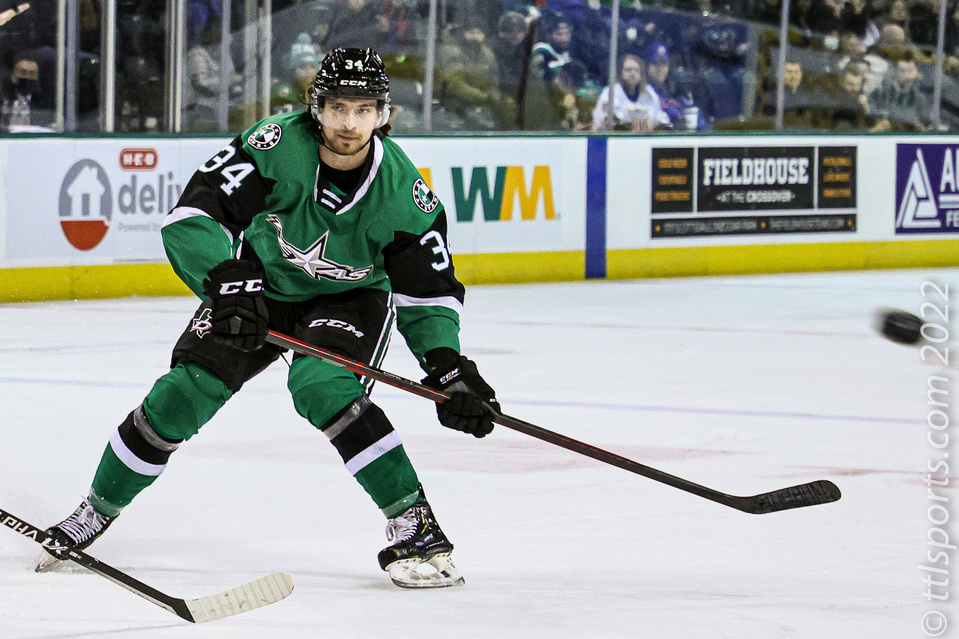 The Texas Stars (18-22-5-5) got a quick jump on the Charlotte Checkers (30-21-3-0) but failed to hang-on, losing by a score of 3-1. The Stars continued to under-perform with power plays.
Texas jumped to an early lead when Fredrik Karlstrom found the back of the net in the third minute of play. Texas maintained the led until Owen Tippett evened the score midway through the opening frame.
Neither team threatened nor scored in the second period.
Third period play was lack-luster as both teams played cautiously in a tie game. The period's first goal came from Charlotte's Cole Schwindt. The forward fired a shot from behind the net that caught the backside of Star's goalkeeper Jurusik's pad before crossing the goal line.
Owen Tippett added an insurance goal for the Checkers against an empty Texas net. The goal was Tippett's second of the evening.
Charlotte goaltender Joey Daccord (10-9-2) performed masterfully behind the posts, making 27 saves against 28 shots to earn the win. Texas netminder Matt Jurusik suffered the loss, allowing 2 goals against 24 shots.
Texas continues to be challenged on power plays. The Stars went 0-for-6 on with the man-advantage, including 1:25 with a two-man advantage. Texas is now 0-for-23 in their last 23 power plays at home.
"The way I look at it is you still have to score more than one goal to win hockey game, and that's two games in a row," said Texas Stars head coach Neil Graham. "You have six power plays you have to be better, plain and simple."