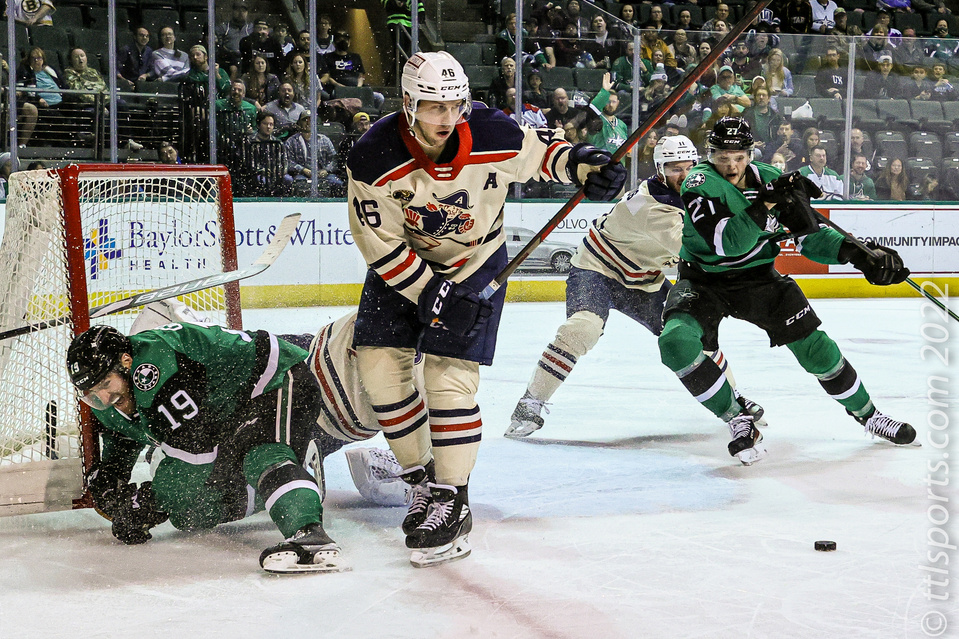 A different Texas Stars team took the ice against the Milwaukee Admirals. Instead of a defeatist team, a team with pluck, vigor and confidence defeated the Admirals 6-5 in an overtime shootout.
Expectations were low for the Stars as they returned from a disastrous road trip, dropping 3-of-4 games. Additionally, the Stars, one of the worst teams in the Division were taking on one of the best teams in the Division.
There was no surprise when Milwaukee took an early lead, compliments of Mitch McLain's goal. The inkling of a different game came with Ty Dellandrea's short-handed goal with five minutes remaining in the period. But Egor Afanasyev's goal for the Admirals temporarily extinguished Texas' momentum.
Texas was on-fire to start the second period. Anthony Louis scored his first of two goals in the period at 2:18, and Dellandrea also scored two additional goals to earn the hat trick. Dellandrea's final goal came on a power play. Mathieu Olivier found the back of the net midway through the frame for the Admirals.
The Admirals had to battle from two goals down, compliments of Tommy Novak and Cole Schneider, force the game into overtime. Schneider's goal came on a power play.
Neither team scored in the five-minute overtime period, forcing a shootout. Neither Milwuakee shooter scored in the shootout while Louis and Tanner Kero each tallied for the Stars.
Texas goaltender Adam Scheel (8-7-6) earned the win while Milwaukee's Connor Ingram (25-15-6) endure the loss.
"I think you know the hat trick jumps off the page, and everyone talks about it, but whether he scores or doesn't score I think he's played an excellent brand of hockey and he's been creating for us," said Texas Stars head coach Neil Graham of Dellandrea. "He's played a 200-foot game, and I think tonight was icing on the cake for really how he's played over several months."