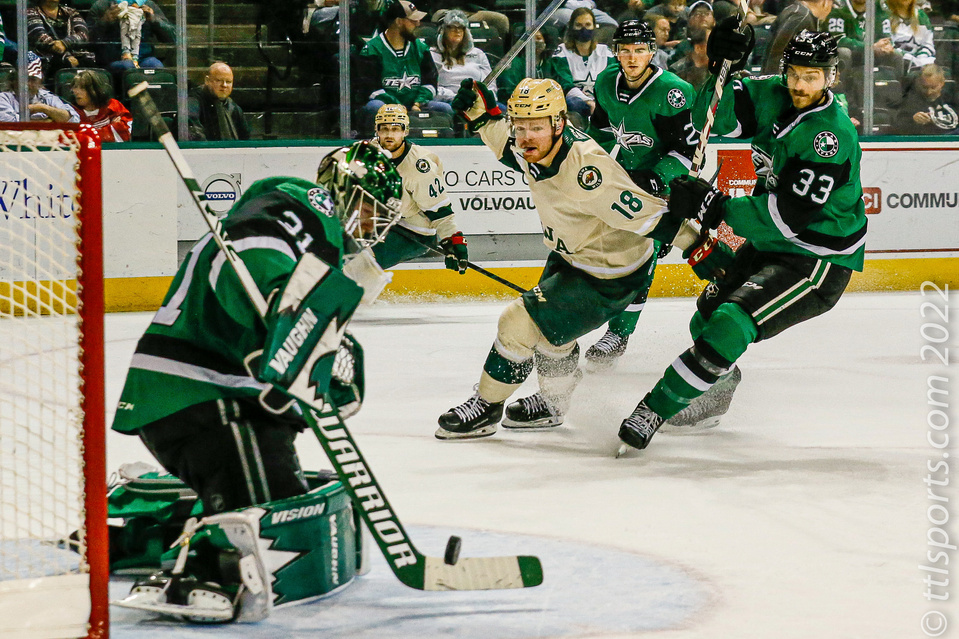 The Texas Stars played like they lacked purpose in what should have been a climactic battle for the final playoff spot in the Central Division. The Stars dropped the second of a two-game series against the Iowa Wild by a score of 0-3; Texas dropped the first game 3-4 in a shootout.
For perspective, the Stars appeared to fighting hard for sixth place in a division where five of the seven teams advance to the playoffs. Iowa is currently in fifth place.
The only highlight of the night was Ringo accepting his award for Mascot of the Year in the AHL's 2022 Mascot Madness competition.
The Stars got off 1 shot in the first 8 minutes of the game, and were out-shot 15-to-6 in the period. The lone goal of the period came off the stick of Iowa's Mason Shaw on a power play.
"Our start was poor and in a game of this magnitude and value you can't do that yourself," said Texas Stars head coach Neil Graham. "We didn't come out nearly ready enough against an opponent that was ready to jump."
Texas appeared desperate for the remainder of the game, hurling the puck at the net in hopes they would eventually it would go in. It didn't. Texas out-shot Iowa 32-to-16 in the final two period without finding the back of the net.
Mitchell Chaffee doubled Iowa's lead in the second period.
Texas pulled goaltender Adam Scheel with four minutes remaining the game, but that attempt lacked sincerity. Iowa added an empty-net insurance goal when the puck road alone the side of the boards, slipping by two Stars players, before Dominic Turgeon scooped the loose puck for an easy goal.
Reflecting on the team's performance this weekend, Graham said, "So is it disappointing this weekend? Absolutely. It's a step back." Graham continued. "But we've got to reset and now we've got to start maybe working towards another peak."