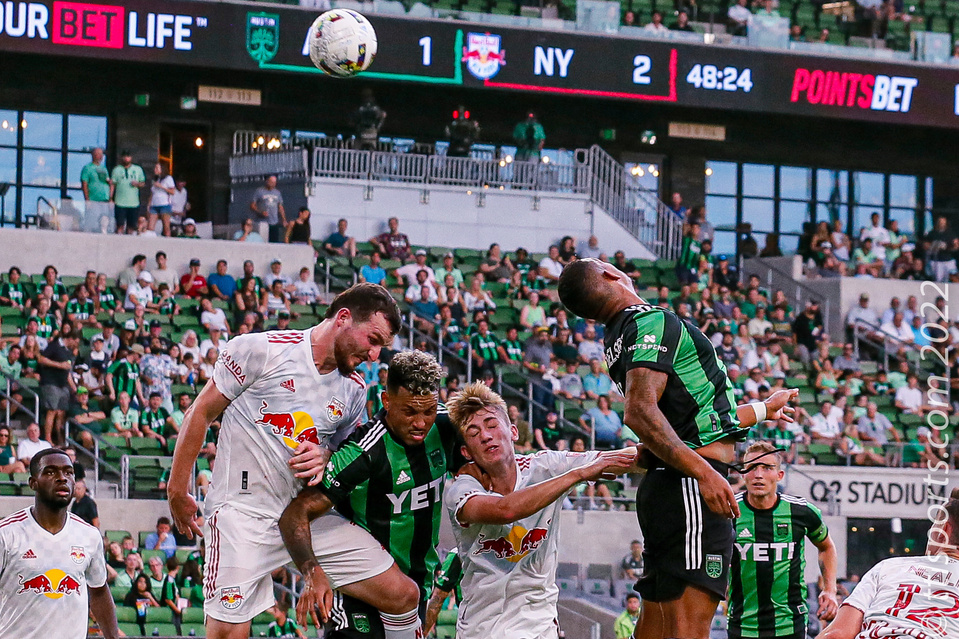 The Austin FC were up-ended by the New York Red Bulls, by a score of 4-3, in a match filled with uncharacteristic errors by the home team.
"We didn't start this game in a very good way. New York immediately put it on their terms," said Austin FC head coach Josh Wolff. "They slowed down the tempo of the game. The ball was not in play that often."
New York had two goals over-turned for offsides in the opening minutes of the match. Serge Ngoma officially put the Red Bulls on the board in the 14th minute of play. Tarbell initially knocked-down the shot from far-outside the box, but the momentum carried the ball past the goal line.
Dru Yearwood double the New York lead in the 26th minute, owning to sloppy defensive work by Austin that left Tarbell flat-footed.
Sebastian Driussi shifted the momentum with a goal in the final seconds of the first half. Alex Ring collected a corner kick, feeding Driussi at the top of the box for a goal that threaded several New York defenders.
Cameron Harper re-established New York control of the match to start the second half. Yearwood easily picked off a pass by Ring, to set Harper up for an in-close goal.
Tom Barlow looked to shovel dirt in to the grave in the 65th minute, giving New York a 4-1 advantage.
Driussi immediately responded with a score, closing the gap to 4-2, with a massive shot from far outside the box.
Ethan Finlay brought Austin to within striking distance in the 81st minute, bringing the team within one goal. Washington Corozo, in his first match for Austin, set-up the goal with a spectacular bicycle kick.
Sebastian Driussi was the man-of-the-match for Austin, tallying two of the three scores, and assisting on the final goal. "His performance is exactly who he is. When games are tough, or when you're in big games, or it's challenging, those players seem to find a way to be impactful," said Wolff of Driussi. "He's the best player in the league."
The loss weighed heavy on the shoulders of goalkeeper Andrew Tarbell. Tarbell's performance was sub-par. "He's a good goalkeeper. He'll own what happened tonight. He doesn't hide from that stuff. He's a great leader. A responsible guy," said Wolff of Tarbell.