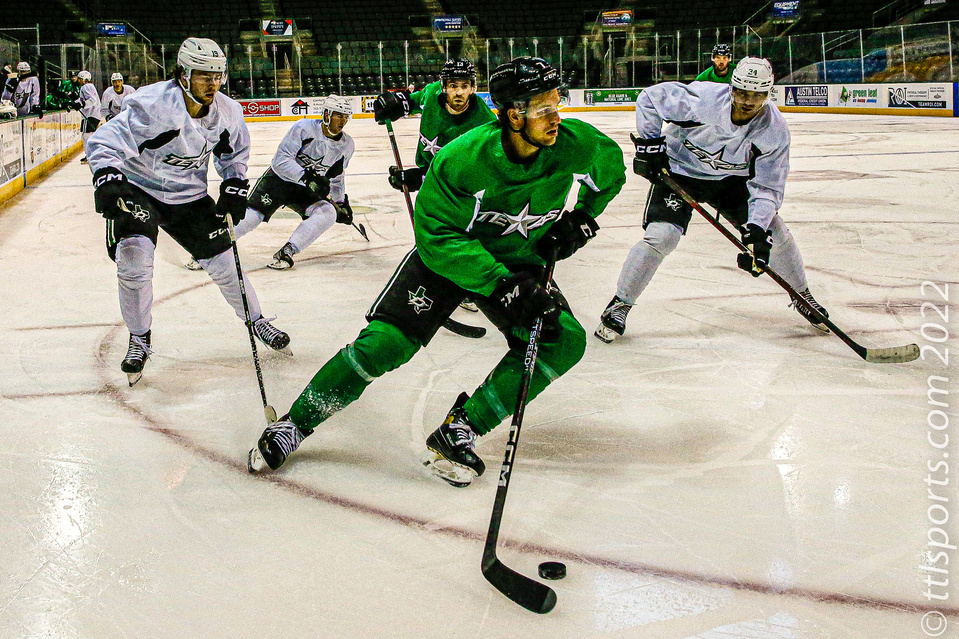 Local media got their first glimpse of the 2022 / 2023 Texas Stars at the annual media day event.
The team is returning 16 players from last year's team. Texas' 2022-23 opening night roster has a combined 3,043 regular-season games of AHL experience and 1,047 games of NHL experience.
Captain Curtis McKenzie is the most experienced player on the team with 453 career regular-season AHL games played. His 552 professional games (including 99 NHL games) is three more than Alexander Petrovic's 549. Petrovic has appeared in 286 regular-season AHL games and 263 NHL games. Defenseman Will Butcher has the most NHL experience, having played 275 regular-season games. His first game for Texas will also be his first in the AHL
Forward Matej Blumel is the only skater other than Butcher without an AHL game entering the season. Blumel is one of five "official" rookies on the roster, including goaltender Matt Murray (six games last season), defenseman Michael Karow (13 games last season), and forwards Mavrik Bourque (six games in 2020-21) and Antonio Stranges (nine games in 2020-21).
Forwards (15):
Oskar Back, Riley Barber, Matej Blumel, Mavrik Bourque, Riley Damiani, Ryan Dmowski, Justin Ducharme, Rhett Gardner, Fredrik Karlstrom, Tanner Kero, Curtis McKenzie, Fredrik Olofsson, Antonio Stranges, Marian Studenic, Riley Tufte
Defensemen (8):
Will Butcher, Joseph Cecconi, Ben Gleason, Thomas Harley, Michael Karow, Alexander Petrovic, Jerad Rosburg, Ryan Shea
Goaltenders (3):
Anton Khudobin, Matt Murray, Adam Scheel