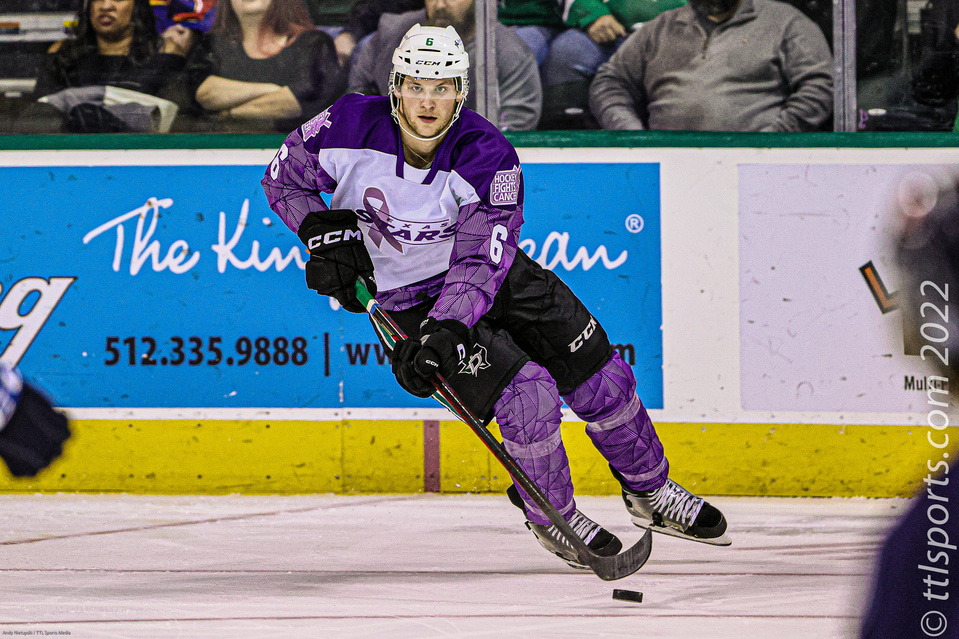 The Texas Star (7-5-2-1) scored two goals in the final 62 seconds to force overtime and then defeat the Manitoba Moose (7-3-2-0) by a final score of 6-to-5. Jacob Peterson scored the game-winning goal at 3:49 into the overtime period.
Texas was down 4-to-2 with 5 minutes remaining in the contest. Butcher brought the Stars within one goal with 2:11 on the clock. A melee ensued, sending two Texas and one Manitoba players to the penalty box. The Stars then pulled their goalkeeper, giving Manitoba's Alex Limoges an easy empty-net goal and the Moose a two-goal margin.
Mavrik Bourque pulled the Stars with one goal with 1:02 remaining in the game. Will Butcher scored the game-tying goal, his second in three minutes, with ten seconds remaining. Butcher also had two assists.
Commenting on Butcher's performance, Texas Stars head coach Neil Graham said, "I though he (Will Butcher) was solid. His focus was there. He had intensity in his plays. He's a cerebral player. His hockey IQ and he way that he sees the ice is his strength. He's been a contributor all year, he's been a leader for our group all year.
Manitoba's Jeff Malott notched two goals and one assist in the effort.
Rarely is there a came with so many highs, so many lows, so many momentum swings. Texas blistered Manitoba goalkeeper Arvid Holm with 42 shots. But Manitoba was especially effective, scoring 5 goals on 21 shots.
Manitoba had 13 players sit in the penalty box for total of 42 minutes, compare to Texas' nine players for 18 minutes. The Moose converted on 2-of-7 power play opportunities and while the Stars' converted 3-of-9.
The low point of the evening came late in the third period when Manitoba's Evan Polei was called for goaltender interference. Polei slashed his stick into the glass in protest, then hitting linesman Carl Sasyn in the jaw. Polei was rejected from the game for misconduct and received a one-game suspension.
Despite the euphoria that echoed through the H-E-B Center with the win, Graham was ever-pragmatic, saying "Got to give credit that we stayed in the fight. No fight. No quit. That's all great. We'll take the two points. We'll look at some things good, we'll look at some things bad."
Stars netminder Matt Murray (3-3-1) earned the win, making 16 save against 20 shots. Manitoba's goaltender Arvid Holm (3-1-2) endured the loss, allowing six goals on 42 shots.