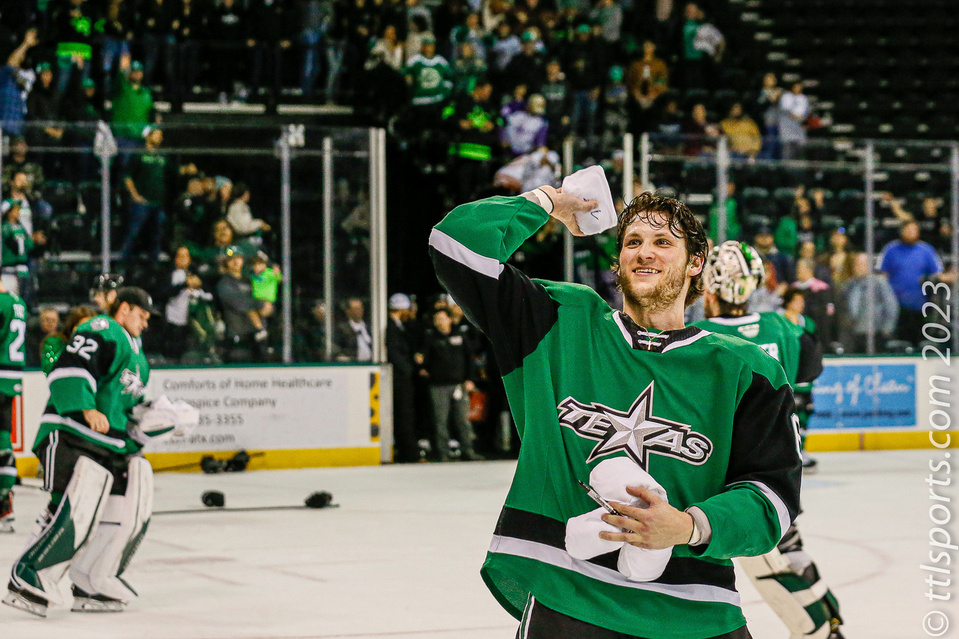 The Texas Stars had much to celebrate as they marked Fan Appreciation night at the end of their last regular season game.
The Stars clinched a top seed in the Calder Cup playoffs by winning the AHL Central Division with a record of 40-20-9-3 (wins / loses / overtime loses / shootout losses), winning 63.9% of their game, and earning 92 points. That record was third best in the conference and fifth in the league.
Compared to their peers in the league, the Stars were first in goal for (265), first in short-handed goals (13), fifth in penalty kills (83.7%), seventh in goals against (210).
Texas Stars Historical League Performance
2021-23 season: 5th overall; 40-20-9-3; 92 points; 63.9% wins
2021-22 season: 20th overall; 32-28-6-6; 79 points; 52.8% wins
2020-21 season: 20th overall; 17-18-3-0; 37 points; 48.7% wins
2019-20 season: 24th overall; 27-28-3-4; 61 points; 49.2% wins
2018-19 season: 17th overall; 37-31-4-4; 82 points; 53.9% wins
2017-18 season: 12th overall; 38-24-8-6; 90 points; 59.2% wins
2016-17 season: 24th overall; 34-37-1-4; 73 points; 48.0% wins
2015-16 season: 11th overall; 40-25-8-3; 91 points; 59.9% wins
2014-15 season: 9th overall; 40-22-13-1; 94 points; 61.8% wins
2013-14 season: 1st overall; 48-18-3-7; 106 points; 69.7% wins
Texas is no stranger to the Calder Cup Championship, having won the trophy in the 2013-14 season, when they were the best team in the league with a record of 48-18-3-7, 69.7% wins, and 106 points. The team won the Western Conference Championship in the 2017-18 season, but lost to the Toronto Marlies in the seventh game of the Calder Cup Championship. Texas made it to the playoff last season, but lost in the first round.
The Stars earned a first-round bye, and will play the winner of the fourth-seed Iowa and fifth-seed Rockford match-up.