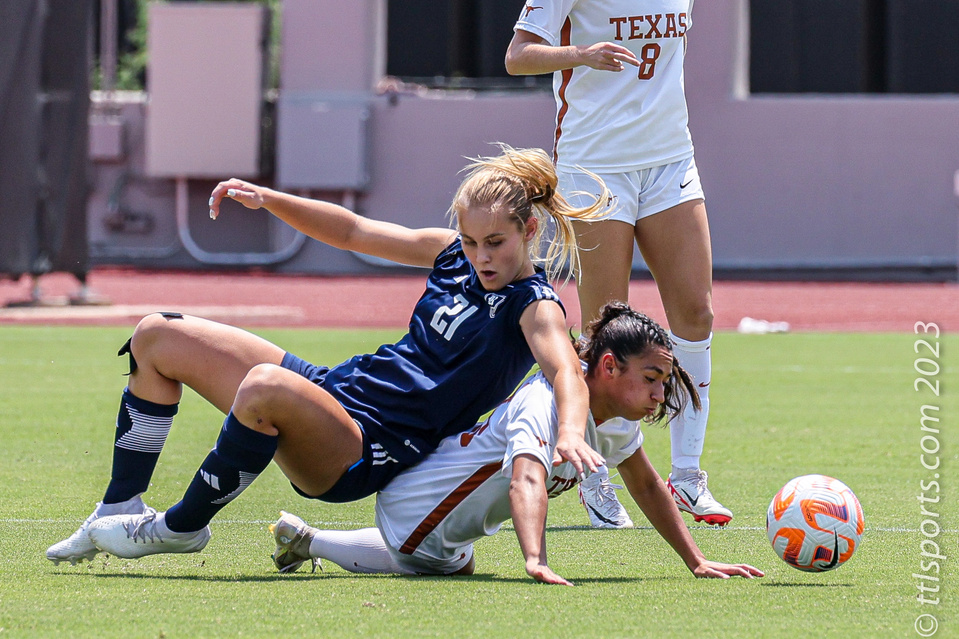 Junior Trinity Byars led the University of Texas Longhorn women's soccer team (2-0-0) to a 6-0 win over the Rice University Owls (0-2-0) with a first-half hat trick. The feat ties a school record for the most career hat tricks.
"I don't get sick of saying it, but (Trinity) is very special, and in combination with Lexi (Missimo), her and Lexi are a special combination: five goals and two assists among the two of them today was remarkable," said Texas Head Coach Angela Kelly. "I said it in the press conference at the beginning of the season, I'm just grateful I'm not the coaches who are organizing (defenses) to play against them, especially when they do such a good job of inviting in the rest of the players to make a four-or-five-player combination."
Byars finished the match with three goals and an assist, allowing her to claim the fifth-most points (7) in a single match in program history.
Byars was quick to share credit for her accomplishment, saying, "They (Missimo and Jilly Shimkin) do it the best, so they were just putting me in great positions to score."
Missimo found the back of the net twice, and came within inches of her own hat trick, but the shot just missed the outside far post. She also assisted Byars on a goal.
Shimkin also tallied a goal and two assist.
First-year Texas goalkeeper Mia Justus was credited with her first clean sheet since joining the program. The junior transfer to Texas from Florida State where she earned nine clean sheets.
The Longhorn completely dominated the Owl, holding them to four shots, three on-goal. Texas pummeled Rice goalkeeper Ann Stephanie Fortin with 34 shots, 13 on-goal.
Texas Athletic Director Chris Del Conte endured the 107-degree weather to cheer-on the Longhorns in their first home match in the 2023 season.