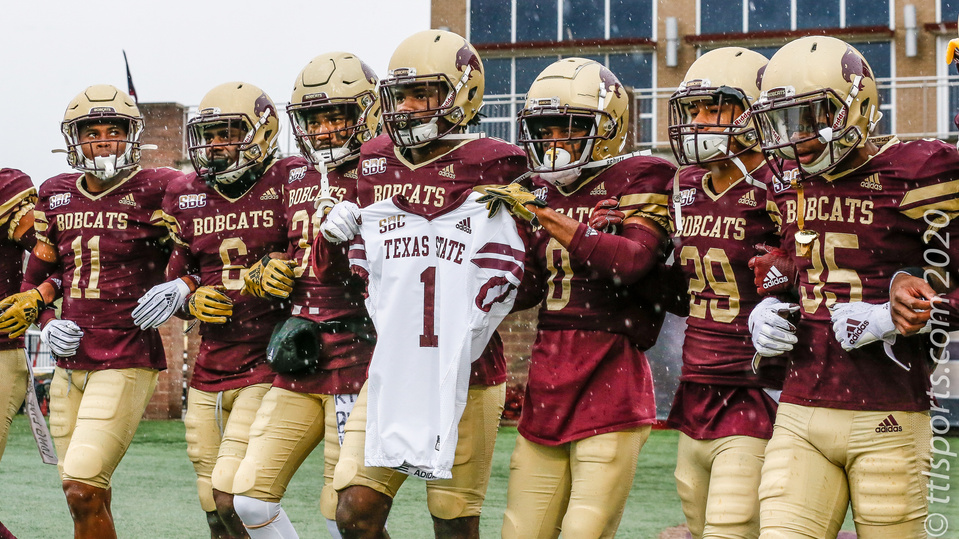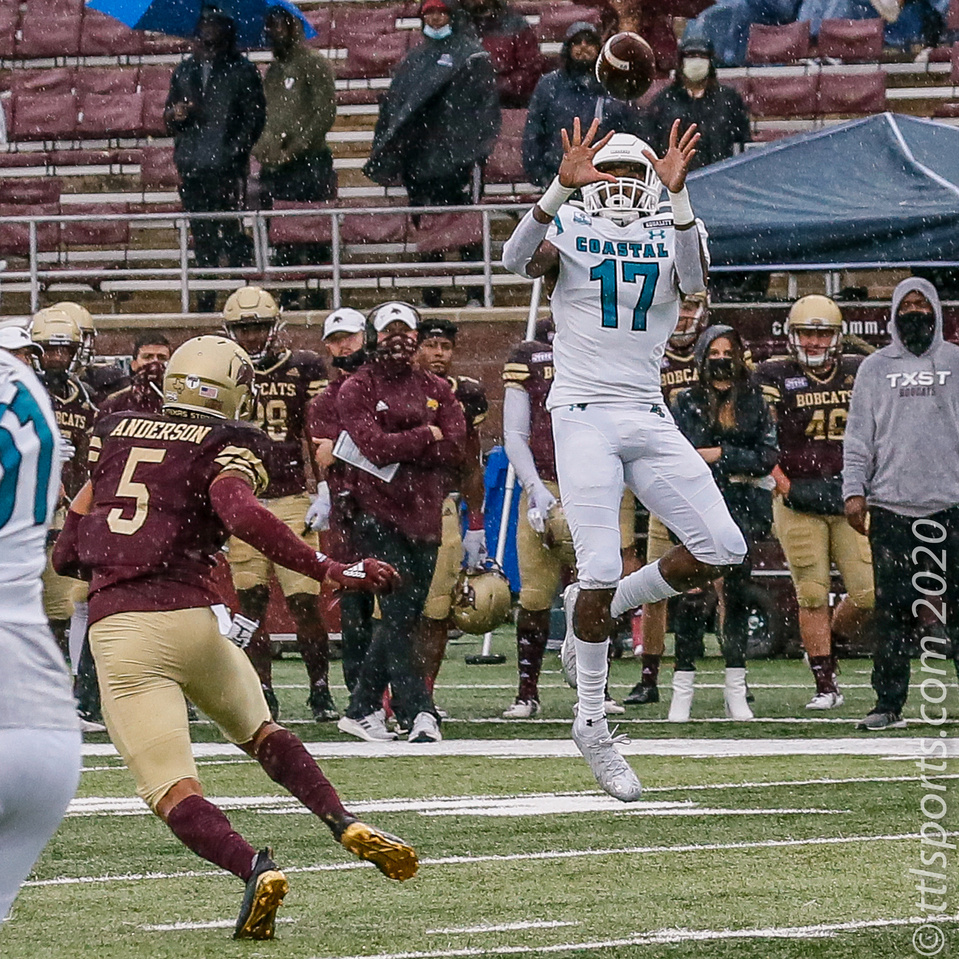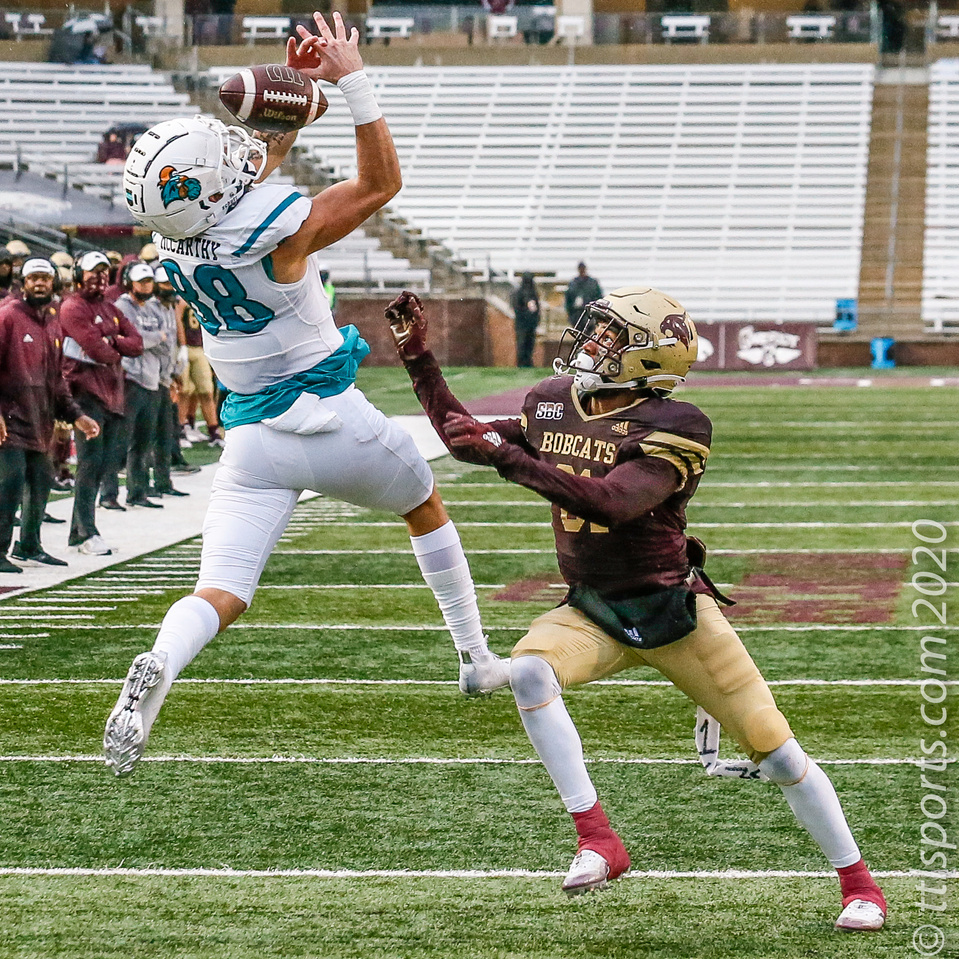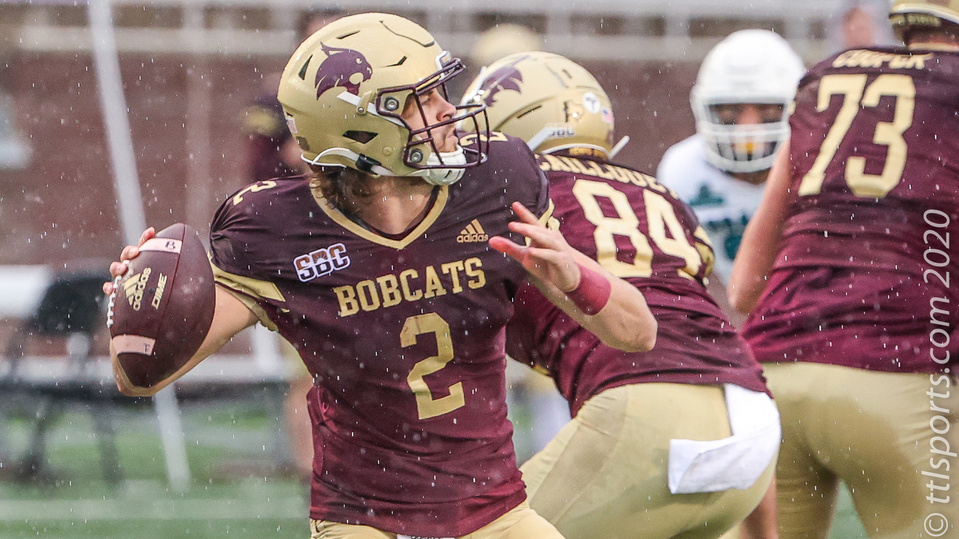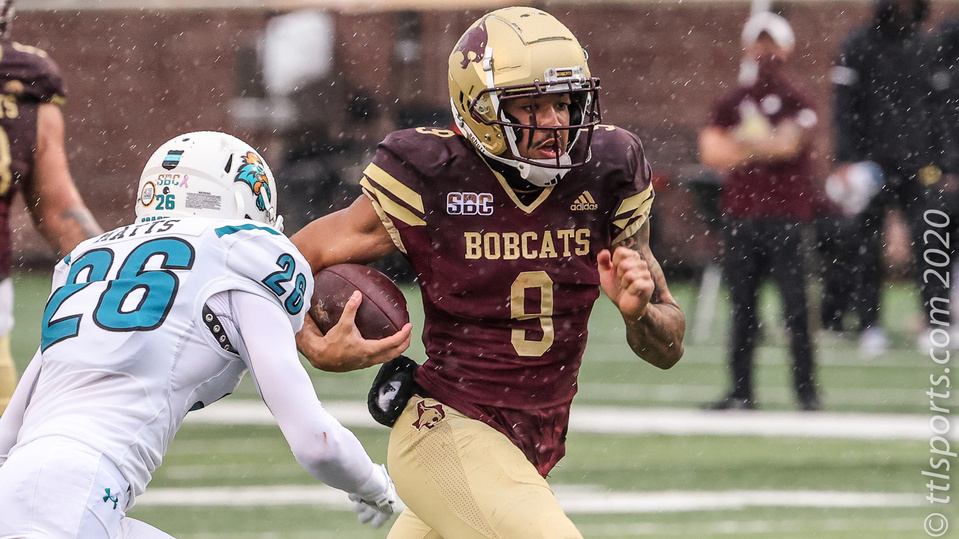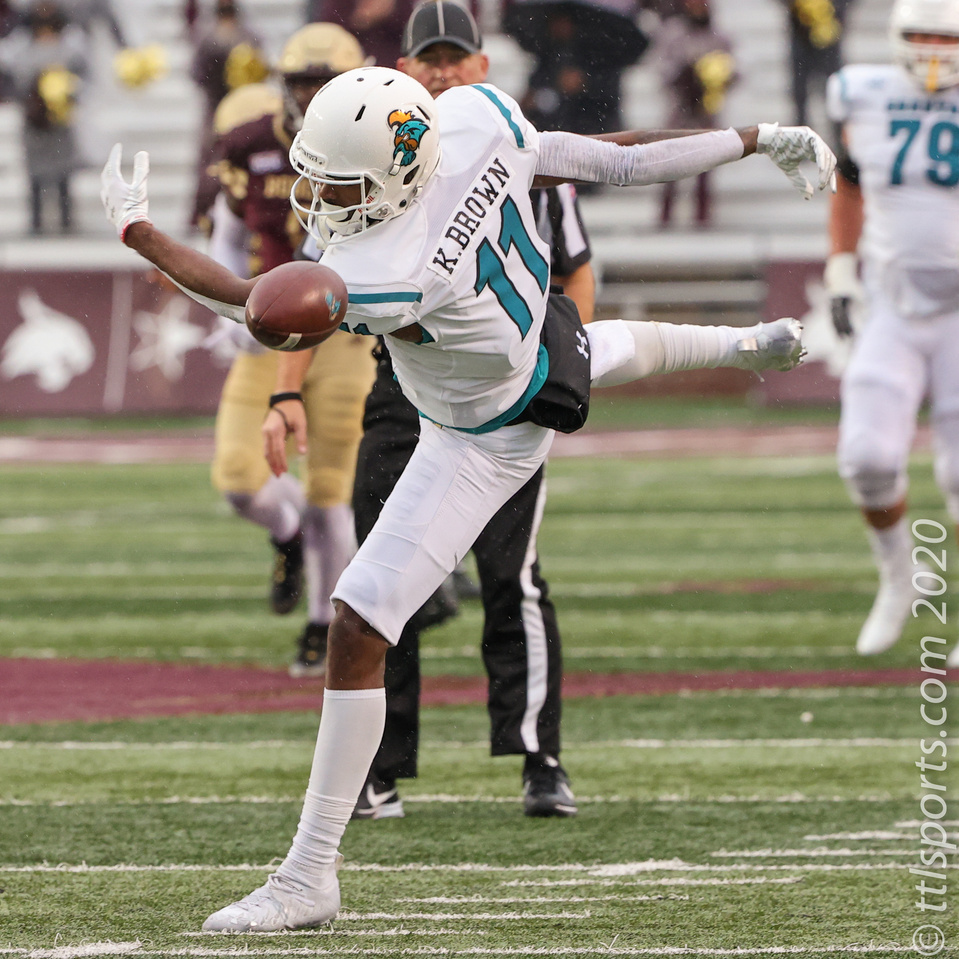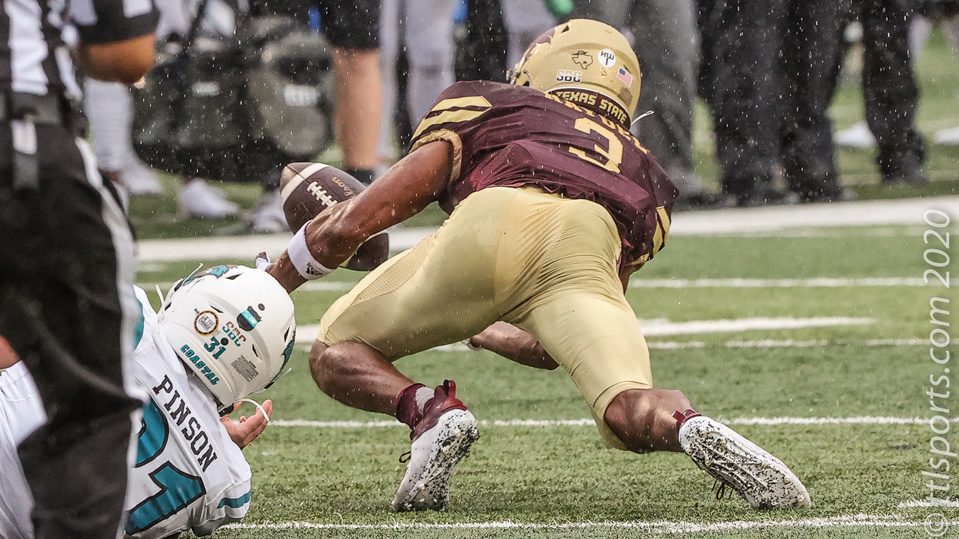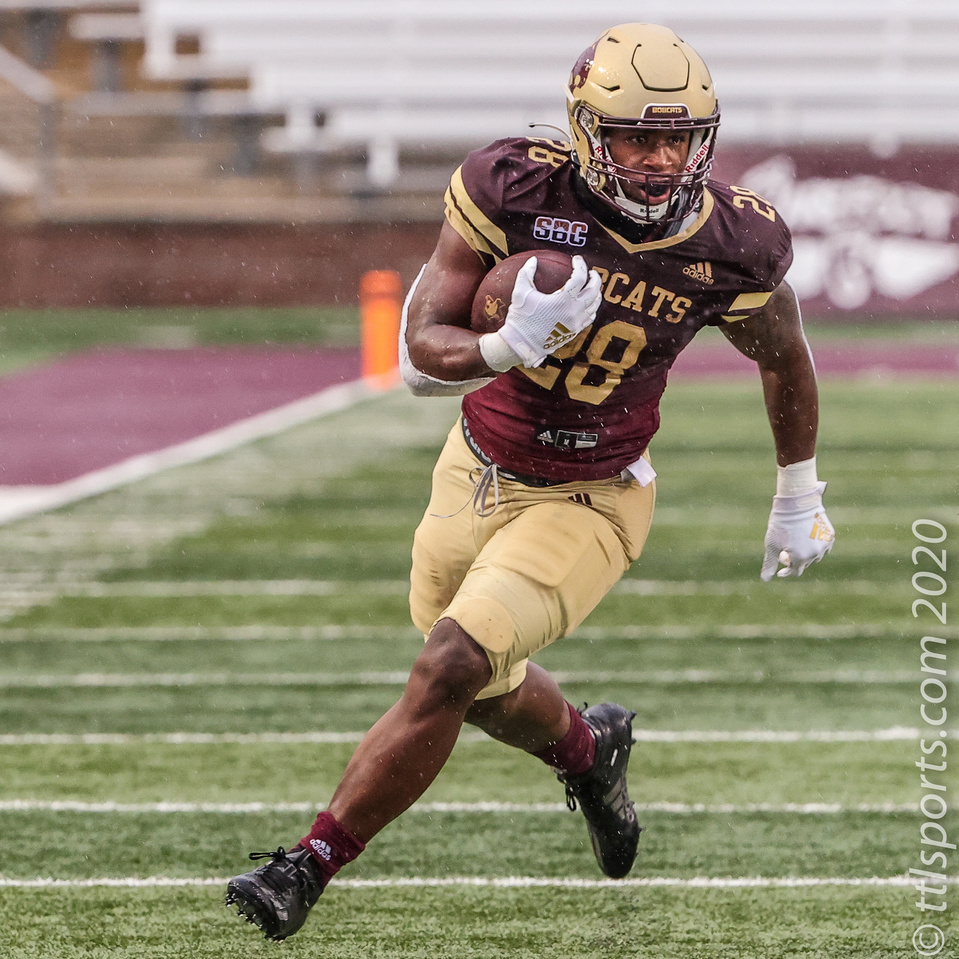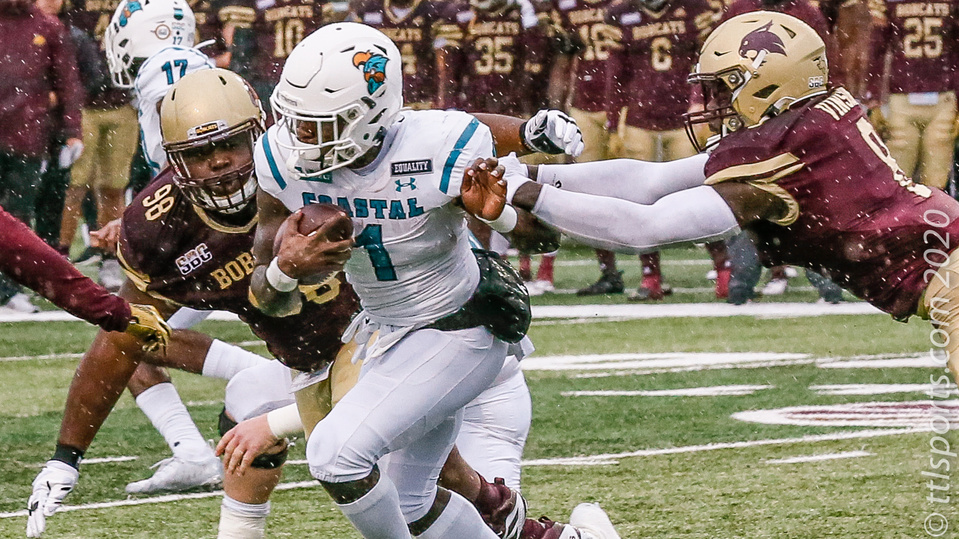 The Texas State Bobcats (2-10, 2-6) knew they were about to face a formidable opponent in the Coastal Carolina Chanticleers (9-0, 7-0). Entering the game, Coastal QB Grayson McCall led the Sun Belt in passing efficiency (190.5), and had thrown for 1593 yards and 18 touchdowns. And running back CJ Marable led Coastal with 435 rushing yards and 5 TDs, averaging 4.2 yards per carry.
Saturday's weather conditions were also a challenge for all those in attendance. The cold, rainy conditions drew fewer than 100 fans in the stands. The weather was so blustery that the Texas State cheerleaders and Strutters dance team were forced to seek warmth before game ends. The biggest victim of the wintery weather was one-dimensional Bobcat passing attack.
Coastal totally out-played Texas State in nearly every aspect of the game: time of possession (37.5 minutes to 22.5), first downs (32 to 13) and total offense (572 yards to 318) in route to a 49 – 14 blowout victory. Coastal even cleared their benches, putting 65 players on the field to Texas State's 51.
Coastal scored on their first two possessions before Texas State marched down the field in a 7 play, 77-yard drive, ending with a Javen Banks 14-yard touchdown reception. Texas State was silenced until midway through the final frame when Jahmyl Jeter complete a 5-yard run for the Bobcat's second and final score of the game. Coastal assemble five additional touchdown drives between the two Texas State scores.
Texas State quarterback Brady McBride threw for 202 yards (20-for-26) with one touchdown. He was sacked 3 times. Jeter led the Bobcats rushing with 47 yards on 7 carries. Calvin Hill led all receivers with 68 yards on 3 touches.
Weather conditions also limited Coastal's aerial attack. Quarterback McCall had a pedestrian performance, throwing for 154 yards (11-for-18) and 2 touchdowns. Coastal's ground game more than made up the difference. Marable average nearly 10 yards per carry for 157 yards and 3 touchdowns. Reese White (72 yards on 7 carries) and Biden Pinson (24 yards on 3 carries) each found the end zone one.
Prior to the game Bobcat Nation remembered Khambrail Winters. Winters was a sophomore defensive lineman who was murdered on Tuesday evening in San Marcos.
The sole saving grace from Texas State's titanic loss to Coastal Carolina was it wasn't necessarily the final home game for the seniors. All seniors are eligible to return next season because of NCAA COVID-19 provisions.