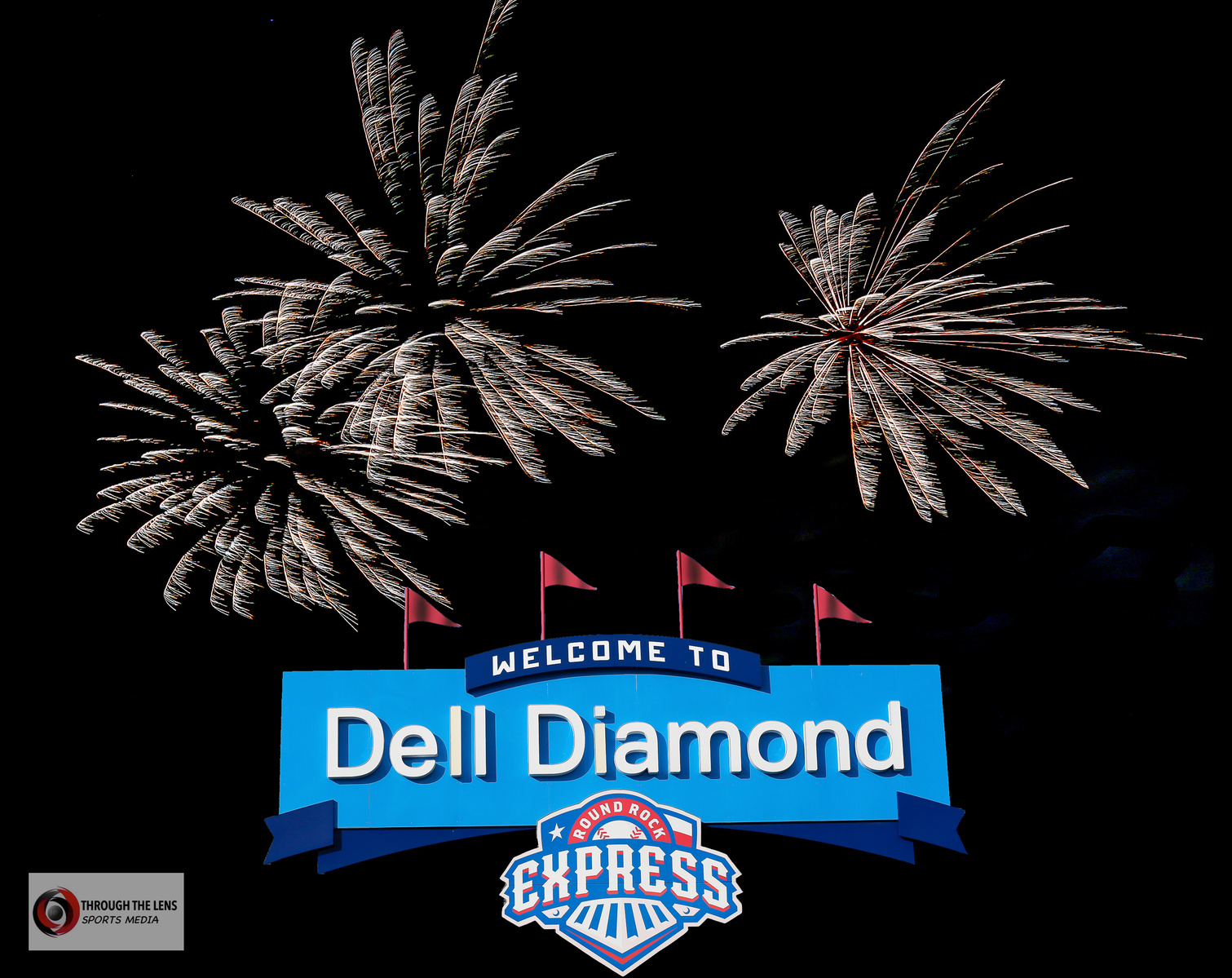 Dell Diamond
Round Rock Express catcher Brett Nicholas once said Dell Diamond was the thirty-first best place to play baseball in America. There are thirty major league baseball teams, thus making the Round Rock Express the best place to play in minor leagues. The team's games are consistently among the best attended, a result of Nolan Ryan's maniacal focus on enhancing the fan experience.
The Round Express will celebrate its twentieth anniversary at Dell Diamond with the 2019 season. The team is named for Baseball Hall of Famer Nolan Ryan, who was nicknamed "The Ryan Express." Ryan, along with son Reid Ryan and Don Sanders make up the team's ownership group, Ryan Sanders Baseball.
The team started in 2000 as the AA affiliate of the Houston Astros, becoming their AAA affiliate in 2005. They became the AAA affiliate of the Texas Rangers in 2011, and returned to the Astros in 2019.
Hanser Alberto
Hanser Alberto was probably the most versatile player on the Round Rock Express. In the past season he played 44 games at shortstop, 43 at first base, nine at second base, three at third base and two in the outfield, in addition to numerous stints as designated hitter.
Hanser was also the team's Most Valuable Player for the 2018 season. He led the team with a 0.330 batting average, set a new single-season franchise record for hitters with at least 300 at-bats, and set the lowest total plate appearances-to-strikeouts in the league. Alberto also ranked second on the club with 58 RBI.
Alberto made his major league debut with the Texas Rangers, playing 41 games in 2015 and 35 games in 2016. He missed nearly the entire 2017 season to injury. In 2018 he was a member of the Ranger's 40-man roster and was called up on three occasions.
Austin Bibens-Dirkx
You will find no greater accommodating pitcher in baseball than Austin Bibens-Dirkx. He bounced around 20 minor league teams over 11 seasons before signing with the Round Rock Express. A year later in 2017 he made his major league debut with the Texas Rangers.
Bibens-Dirkx's "I'll do what ever you need" attitude continued into 2018. Whether it's mentoring the upstarts or needing to pitch late into the game, just tell him. He'll do it. This approach earned him the Iron Man moniker when he threw 110 pitches over a four-day period, the most by a Rangers reliever in a four-day span since 1990.
Austin shuttled between the Express and the Rangers throughout the 2018 season.
For the Rangers he went 2-3 with a 6.2 ERA. He started in 6 games and relieved in 7 for a total of 45 innings. And for the Express he went 3-6, with a 5.68 ERA. He started in 15 games, completed 1 game and relieved in 2 for a total 82 innings pitch.
Bibens-Dirkx underwent season-ending surgery to repair partially torn cartilage in his left knee mid-September. He's expected to be ready to go by the start of spring training.
Willie Calhoun
Willie Calhoun's claim to fame was he was traded from the Oklahoma City Dodgers (PCL AAA) to the Texas Rangers for pitcher Yu Darvish. They immediately assigned the stout, 5 foot 8 inch tall, 190 pound second baseman to learn the play the outfield.
Calhoun is better known his offensive abilities than his defensive. In 432 at bats, 127 hits (#2), batting average 0.293 (#3 w/ over 100 games) 68 runs (#2) 32 doubles (#1), 9 home runs (37), 47 RBIs (#6), 32 walks (#4) and 47 strike outs (#11).
Willie appeared to be having more fun towards the end of the season, especially batting behind fellow outfield Scott Heineman.
The Rangers called up Calhoun on three occasions in 2018. He appears to be swing big and not making the impact. Willie is striking out in once out of every plate plate-appearances with a batting average of 0.236 (#10) and slugging percentage of 0.365 (#10).
Juan Centeno
Juan Centeno's history may appear similar to many players in minor league baseball: they get drafted in the later rounds, they bounce around minor league teams, but they stay with it because of their passion for the game. But Juan Centeno is different. Juan Centeno earned a World Series ring.
Centeno's breakthrough year occurred in 2016 when he was brought up by the Minnesota Twins to be their regular back-up catcher. He played 55 games. The following season he was picked up by the Houston Astros, played in 22 games, including one playoff game, and was a member of the World Series Championship Team. But Centeno was put on waivers shortly after the celebration ended and was picked up the Texas Rangers. The Rangers assigned him to Round Rock.
A left-handed batting catcher is rare in baseball. Centeno tried to fill the void left by Brett Nicholas, another lefty batting catcher, but fell short. Centeno played in 59 games, behind Cameron Rupp (63) and Tony Sanchez (62). Within the team he finished 21st in on-base-percentage (0.297); 22ndin slugging-percentage (0.307); 19thin batting average (0.234); and 21stin on-base-plus-slugging percentage (0.598).
Hunter Cole
Hunter Cole is some of the young blood that the Rangers hope to develop into future lineup names. He had been waiting a long time to step on to the Triple-A field. And he did not disappoint. Cole hit a pair of home runs in his first game with the Express on June 5th.
Cole joined the Express from the San Francisco Giants organization where he was an undistinguished Double-A player. He was acquired in November 2017 as the player-to-be-named later from the Sam Dyson trade.
Hunter's strong start waned slightly in July. Cole finished the season with 47 games under his belt and 8 home runs. He batted 0.264, an on base percentage of 0.305, and a slugging percentage of 0.438. The Express placed Cole on the disabled list effective August 8, 2018, where he stayed for the remainder of the season.
Scott Heineman
Scott Heineman's boyish enthusiasm emanates from every pore in his body. From rooting for teammates on from the top rung of the dugout railing, to reacting before thinking, Heineman lives for every moment on the field.
Scott worked his way to the Express in 2018 after being selected by the Rangers in the 11th round in 2015. He batted 0.295 in 107 games including 11 home runs and 16 stolen bases.
Heineman has great potential and could become a steady major league player to fill out the Rangers roster. But he must work on his mental game to reach his full ability. His outbursts not only removed him from the game, but also lead to suspensions, as we saw with a three-game suspension imposed by the league.
Andy Ibanez
Andy Ibanez signed with the Rangers as an international free agent in 2015 for a $1.6 million signing bonus. At the time Ibanez was ranked as #4 in the top 10 prospects at second base according to MLB.com.
After brief stint in Single-A and Double-A, Ibanez found himself with the Express in 2018. With the Express he intended to overcome criticism that he lacked the arm strength to play on the left side of the infield. During the season he played 91 of his 116 games at third base with the balance at second. He achieved identical fielding percentage at both positions (0.973), with a higher range factor at second base (4.36 v 2.74). He committed 3 errors at second base and 7 at third.
Ibanez also had to defend himself at the plate. Andy batted 0.283 in 125 games with 12 home runs. He had an OBP of 0.344 and SLG of 0.410. Ibanez 1 stole base, but was caught 6 times.
Tommy Joseph
Several players came to the Express in 2018 with MLB experience, but none made a great impact than Tommy Joseph. Tommy led the team in homer runs (21) and RBIs (67) despite sitting out nearly six weeks due to injuries.
The San Francisco Giants originally drafted Joseph in second round (55th overall) in 2009. Tommy was acquired by the Philadelphia Phillies organization in 2012 and was ranked No. 3 among Phillies prospect by MLB.com.
Joseph started 74 games in 2016 and 125 games in 2017 for the Phillies. His career batting average of 0.247 and 43 home runs that did not meet expectations. He was released by the Phillies and picked up by the Rangers on March 19, 2018 and later assigned to the Express.
Tim Lincecum
There is no more extreme example of attempting to extend a career then Tim Lincecum. Lincecum has earned two Cy Young Awards, three World Series rings and $101 million in his major league career. So why was he pitching for the Express?
"I love the game too much to give it up," he told reporters.
In his first appearance on May 7, Lincecum avoided his teammates as he entered from the bullpen, sweated profusely, failed to throw his first pitch in time, walked his first batter, threw a wild pitch, lost his glove on another pitch and allowed an RBI double. All in one inning.
"It was pretty nerve-wracking, about as bad as it can get," Lincecum said, "Once I calmed myself down, I was okay."
Unfortunately, Lincecum never really calmed down and it was never okay. In 10 games he pitch just under 13 innings, gave up 14 hits, 12 runs, 8 earned-runs, walked 11, and struck out 10.
Tim LIncecum re-entered retirement on June 5, 2018.
Christian Lopes
The phrases "serious faced" and "Southern California youth" usually don't go in the same sentence, but they do with Christian Lopes. Lopes joined the Express for the 2018 season, after bouncing around the Toronto Blue Jays organization.
"Christian carries himself around here like a true professional," said Express Head Coach Jason Wood of Lopes. "He leads by example and he plays the game the right way. He's great to have around the clubhouse and you know when he comes through the door, he's going to be ready to play."
Unfortunately, Christian's professional ethic hasn't fully translated to success on the field. Lopes led with the team with 16 stolen bases, tied with Scott Heineman. And he was named the PCL Player of the Week in early June. But he also led the team 19 fielding errors and caught stealing 9 times. Lopes batted a modest 0.261 with 12 home runs and 74 strikeouts.
Yohander Mendez
2018 was a very difficult year for Yohander Mendez. Less than two years ago the 23-year old power left-hander was consider a top prospect for the Ranger. Now the future is uncertain.
Mendez started the season with the Express, with an inauspicious record of 0-6, before getting the call. He pitched just three innings on June 15, his first game with Rangers, and allowed 6 runs on 7 hits (ERA 14.7).
Disappointed by his performance he went on a bender and violated team rules. He was sent back down to the minors… not to the Express, but all the way down to High-A Down East Wood Ducks
After 5 starts with the Wood Ducks (1-2, ERA 3.48) he worked his way to the Frisco Rough Riders AA for 6 starts (1-1, ERA 4.91). Mendez made two starts with the Express before re-joining the Rangers at the end of the regular season.
Yohander left the Express with a 0-7 record (worst on team), a 5.25 ERA (23rd on the team), a 1.53 WHIP (18th), and a batting average against of 0.286.
Cliff Pennington
I didn't understand why Cliff Pennington was so like by the Round Rock Express fans. Then it struck me… he's an Aggie. Cliff played for the Texas A&M from 2003–2005 and was drafted in the first round in 2005, #21 overall.
Pennington had nearly 2,800 at-bats in the majors, hit 36 home runs, and had 242 RBIs and 84 stolen bases in his big league career. He was also the first player in Major League Baseball history to make his regular-season pitching debut after his postseason pitching debut. What a guy.
After spending most of his 14-year career with teams based in California, he returned to Texas with the Express.
"It's been fun getting to play close to home and be able to have friends and family come out," Pennington told the Hill Country News. "It's always a lot of fun. The Rangers gave me the chance to play here. It's been a lot of fun with great guys and the staff has been great to me and my family."
But once an Aggie, always an Aggie. Pennington plans to return to Texas A&M and finish his degree when his playing days are done. When ever that is.
Drew Robinson
Drew Robinson could be the quintessential storybook tale. Drafted in 2010, he steadily worked his way up the Texas Rangers organization, landing his first full season with the Express in 2016.
His athletic ability, boyish enthusiasm and Tom Cruise resemblance endeared him to the fans at Dell Diamond. His versatility, having played every position except catcher, made him exceptional valuable to the Express.
Robinson got his first taste of the Major Leagues in 2017 and it went to his head. Gone were the good manners and professional demeanor, replaced by an unhealthy attitude and irreverence as he split time between the Rangers and the Express.
Robinson started the 2018 season with the Rangers. In 26 games he hit.175 and struck-out in 45 out of his 80 at-bats. He also struggled in the field, recording the second most errors on the team.
This humbling experience was exactly what he needed. Drew returned to Express and became a model player, batting .303 in 53 games with 10 home runs, 27 walks and 84 strikeouts.
We hope Drew can maintain this perspective in 2019 with the Rangers.
Cameron Rupp
Cameron Rupp was endeared to Express Fans because of his playing time at catcher with the University of Texas. While at UT he was named a Freshman All-American, named to the All-College World Series team as a sophomore, and hit .304 with 10 home run and 54 RBIs in 63 games as a junior.
The Philadelphia Phillies drafted Rupp in the third round of the 2010 Major League after his junior year. Cameron made his major league debut with the Phillies in 2013, and caught a majority of their games from 2015 to 2017. He was released before the start of the 2018 season.
Rupp joined the Express for the start of the 2018 season. In 63 games with the Express he excelled in the batters box with 11 home runs, 34 RBIs, and batting average of .233. Rupp was more challenged behind the plate, struggling to catch runner taking second base.
On June 1, Rupp exercised the opt-out clause in his contract with the Express and was granted his release. He signed a minor-league contract with the Minnesota Twins, followed by a deal with the Seattle Mariners.
Tayler Scott
Tayler Scott is a long way from home, a lot further than 60 feet 6 inches from pitchers mound to home plate. Scott is working to be the first South African to pitch, and only the second ever to play, in the Major Leagues.
Soccer, rugby and cricket first come to mind when you think South African sports. Basketball, golf, swimming, boxing and surfing are also popular. But baseball is barely on the radar.
"Baseball down there is very tiny, very little thing," Scott told reporters. "It's kind of a recreational thing for guys on Sunday.
With the support of his parents Scott went to high school at Notre Dame Prep in Scottsdale, AZ. He was drafted in the fifth round of the 2011 MLB June Amateur Draft.
Tayler worked is way through the lower levels of the Cubs organization before being released and picked up by the Brewers. The Rangers acquired Scott in 2017 in a trade for pitcher Jeremy Jeffress. Scott played the 2018 season with the Express, his first full season of AAA baseball.
Scott was a short reliever for the Express. He appeared 44 games averaging 1.4 innings per appearance, with a 5-5 record, 1 save, 1 hold, an WHIP of 1.4, and a 3.26 ERA.